The Lost Colony is America's first mystery – the original "urban legend"!
The story of the unexplained disappearance of the first English colonists to settle on Roanoke Island in 1587 was first made into a silent film in 1921. It was filmed entirely on the Outer Banks and it was the first movie ever produced in North Carolina.
In the early 20th century, a group was formed to create a "pageant" of the story — an oratorio of the events using pantomime, music, and narration. W.O. Sounders, editor of the Elizabeth City Independent was a passionate proponent of these plans. But due to the national financial depression, the plans remained dormant until Roanoke Island native and Dare County School Superintendent Mabel Evans Jones awakened interest with a 1921 silent film of the historic events that she conceived, wrote and produced, and in which she starred. The finished film toured across North Carolina and was the first silent film produced in the state.
The film was recently restored and plans are underway to eventually release it on DVD.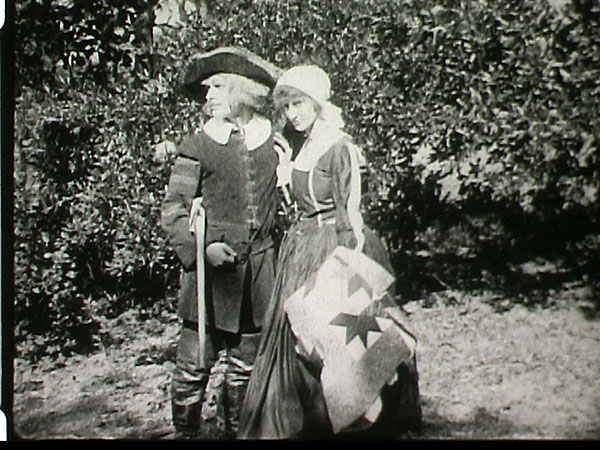 A scene from "The Lost Colony," a silent film from 1921 that is being clearly seen for the first time in decades since an old version emerged during a storage-room cleanup recently. The film has been digitized, and historians are getting a fresh look at a 90-year-old interpretation of the famous story. (The Roanoke Island Historical Association)
 
After her successful film, Jones and other community leaders then create a dramatic pageant based on her film script. On Virginia Dare's birthday in 1925 a lost colony pageant was performed "sound side" against the natural backdrop of the Roanoke Sound. The "pageant" was very successful and organizers sought to build on their achievement in their preparations for the 350th anniversary of Virginia Dare's birth. They approached North Carolina playwright Paul Green about developing a new pageant script.
The resulting play written by Green first opened on July 4, 1937. Though it was originally meant to run for only one season, The Lost Colony is now the longest running outdoor symphonic drama in America. Actor and Manteo resident Andy Griffith is among the most famous alumni of the production.
The 2012 season marks the 75th anniversary of The Lost Colony production, and a Diamond Anniversary Gala on Saturday, April 21 at Wright Brothers National Memorial. For details on the Gala and ticket information on the 2012 season, visit The Lost Colony official site.